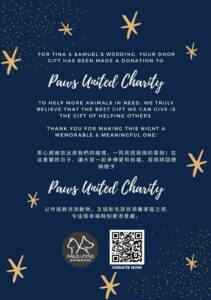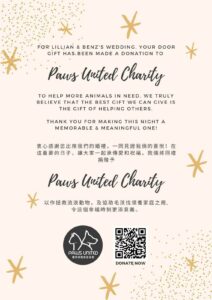 Make your special day much more memorable and meaningful by sharing your blessing to homeless animals, you can honour your guest with a donation to Paws United Charity in lieu of traditional wedding favour or birthday gift.
Please contact us for creative design options, or we can customise one for you.
For enquiry and details, please email hello@pawsunited.org.hk
Thank you!
為您的大日子多添一重意義,選擇我們的宴會回禮捐款計劃代替傳統的回禮。
將回禮小禮物的預算捐贈Paws United Charity,與一眾無家可歸的動物一同分享您的喜悅。
如有任何查詢,請電郵至 hello@pawsunited.org.hk

感謝您的支持!