At Paws United, we rely solely on donations and funds from the public. We do not have paid staff – all donations go directly towards helping more animals in need. The charity is run by a group of dedicated volunteers.
All donations go towards helping homeless animals with every step of their rescue journey – from transportation, medical fees (basic vaccinations, de-sex and other specialty procedures where needed), preventive measures (de-flea/de-worm) to sometimes feeding.
We believe in a no-kill policy, and that #EveryRescueMatters – no matter what age, condition, size, or breed they are. Every rescue animal deserves another chance in life.
PUC是完全依靠公眾捐贈和資金運作的慈善機構。我們由一群不帶薪的志願者經營,所有捐款直接用於幫助更多有需要的動物。
所有捐款全數用於在救援無家可歸的動物的每一步 – 包括運輸﹑醫療(基本疫苗接種﹑絕育和其他必要的特殊醫療程序)﹑預防措施(除蚤 ﹑除蟲)及膳食。
我們信奉不殺生,並堅持 #EveryRescueMatters – 無論年齡﹑狀況﹑大小或繁殖年齡如何。 每隻獲救的動物都應獲得再生機會。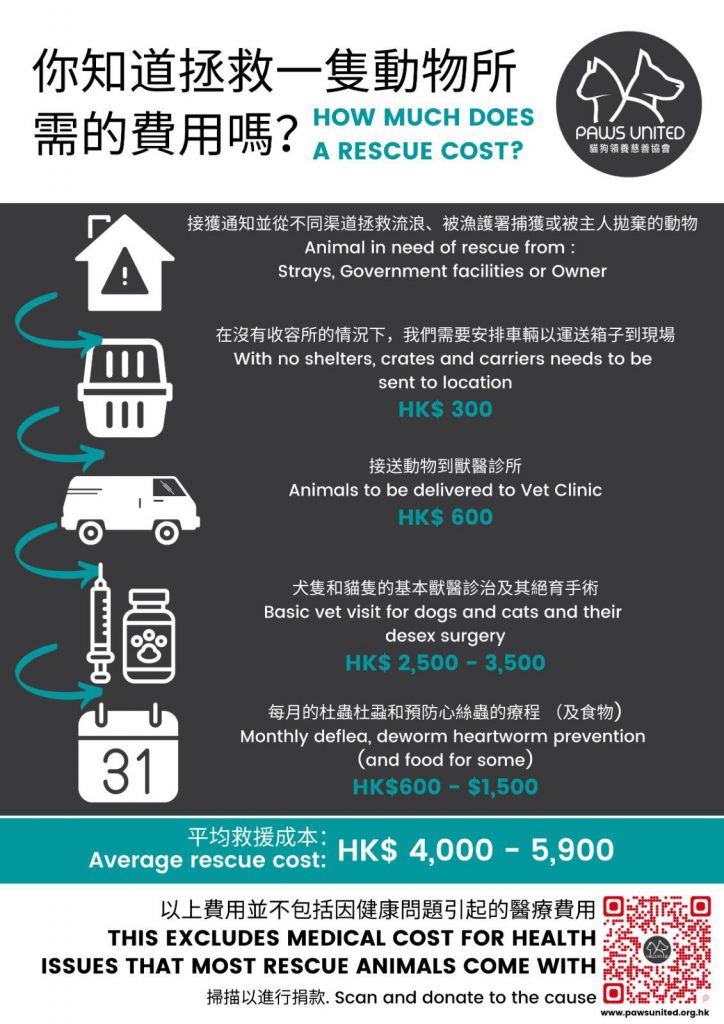 Donate now to contribute to homeless animals in Hong Kong, and join us to prevent innocent animals being a victim of the pet-breeding industry.
Whether if it is a one-off donation, or monthly sponsorship – your contribution will help immensely!
現在捐款,加入我們的行列,為香港的流浪動物貢獻,防止無辜的動物成為寵物繁殖行業的受害者。
不論是一次性捐款還是每月贊助,您的貢獻都會為有需要的動物帶來極大幫助!
Should you require tax deductible receipt (for donations HK$100 or above), please email us on hello@pawsunited.org.hk with your legal name.
Thank you for your support!
如需免稅捐款收據(只適用港幣100元或以上之捐款),請以您的法定姓名電郵至hello@pawsunited.org.hk。
感謝您的支持!